Fax Server Software
Technology and Integration
Robust Architecture
Intuitive network faxing features
Fax as easily as printing from a network printer
Seamless integration with email and other vital business applications
Rich, easy-to-use centralized administration tools
Comprehensive tracking, notification and reporting tools
Intelligent integration and data recognition tools
Facsimile Command Language, Java, XML and embedded codes enable seamless integrations
Certified and/or tested integrations with Canon, Hewlett-Packard, IBM Lotus, Microsoft, Oracle, SAP, Sharp, Xerox and more
Certified and built-in integrations with Oracle E-Business Suite
Microsoft Windows Server architecture provides the robust engine required for handling even the most demanding document delivery needs
Includes Microsoft SQL Server  Editions and support for Microsoft SQL Server Standard and Enterprise Editions
Client Applications are supported on Microsoft Windows
Support for Windows Cluster Server
Active Directory Synchronization and MMC Snap-in
Built-in email gateways

Secure and confirmed document delivery

Advanced notifications

Intelligent Least-Cost Routing

Load-balancing

Extensive host connectivity options

Comprehensive management and control tools

Built-in report models

Robust production-level electronic document delivery

OpenText Fax Server - (Rightfax)
Proven market leader in Fax Server
Document delivery and fax software. It delivers the most reliable and robust fax software solutions to integrate and automate the flow of a full range of fax, paper and electronic documents and data, enabling enterprises to achieve significant cost reductions. By using Open Text Fax Server, companies can securely and efficiently deliver business information from virtually any application via fax, email, print devices or over the Internet.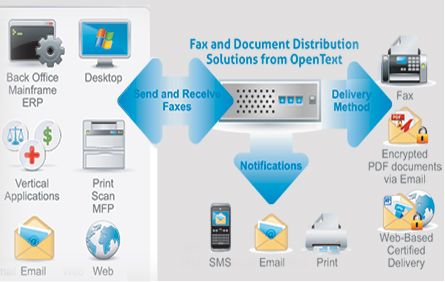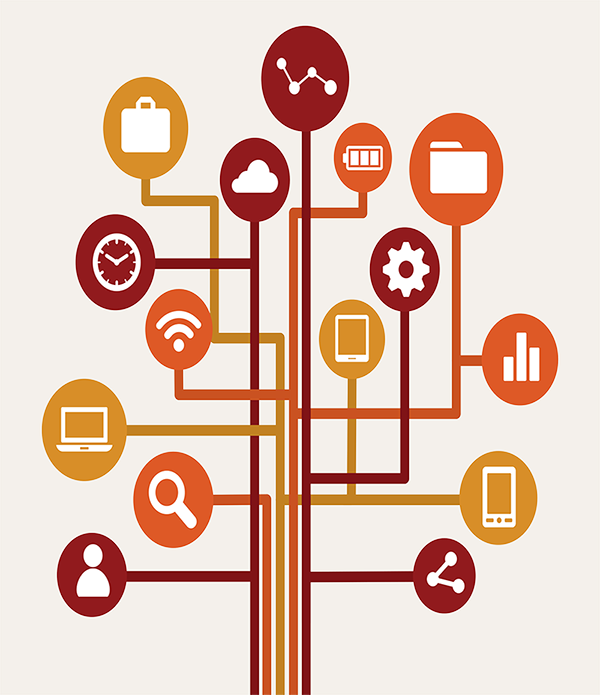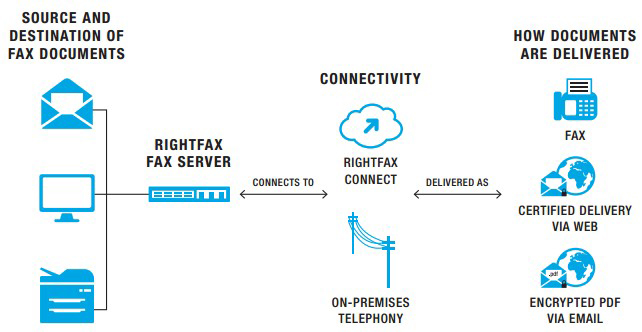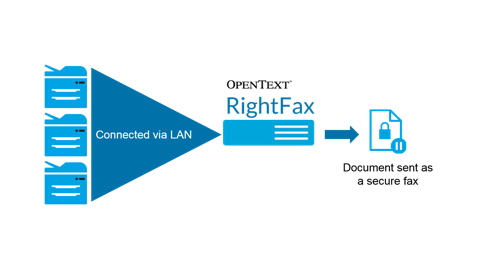 Fax over IP (FoIP) and SIP Trunk in faxing
Whether it is a company initiative or a government mandate, more and more organizations are leveraging IP for their communication services. The benefits are clear: providing a future-proof, IP infrastructure for centralized communications to save money and increase flexibility.
While the move to Voice over IP (VoIP) is in full swing, organizations often overlook an important part of the IP movement: Fax over IP (FoIP), faxing in an IP environment.
When does FoIP make sense?
You're transitioning or have transitioned to VoIP, but you are still using TDM or analog faxing
You seek the flexibility and savings associated with virtualizing RightFax
Your UC strategy currently does not include fax
You need to make faxing more efficient within your organization
Benefits of implementing FoIP
Leverage your existing VoIP network for flexibility and to reduce costs
Reduce telephone expense
Maximize existing network resources and infrastructure
Simplify disaster recovery and high availability for faxing
Integrate RightFax with Email
"Get rid of fax machines and fax from email"
How long does it take you to send an email with an attachment? You can do the same with fax from that same email application. It is sent from within any email application, AS A FAX, to any fax machine around the world. And it's transmitted without the risk of hackers, viruses, or malicious spyware. Faxes are sent from email securely and quickly, and you only have to literally lift a finger.
Integrate RightFax with MFP
Integrate your MFP with RightFax to save money and boost employee efficiency by creating a personalized fax experience at every device.
Organizations of every size integrate RightFax with MFP devices – whether it's a single MFP or an entire global fleet of MFPs. With two types of integration methods, RightFax provides organizations a choice of how to integrate their MFP devices with RightFax.